Plaza Marina in Ixtapa Zihuatanejo
Marina Ixtapa, in Ixtapa Mexico, is located in one of the Pacific tourist developments of major importance in Mexico.
Marina Ixtapa, is Mexico's largest Marina, with 621 mooring spaces; it is made up of two docks and has a navigation channel 25 m wide by 16 feet of water, which allows it to receive vessels of up to 125 feet in length.
As for amenities, Marina Ixtapa has two excellent golf courses and offers enjoyments within the area such as a cycling green paths, water sports, abundant sport fishing of varieties such as Marlin, Sailfish, Dorado and Tuna, among others, as well as diving and snorkeling on the famous Isla Grande or Isla Ixtapa and at the Zacatoso.
Source: www.marinaixtapa.com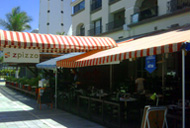 Z Pizza
A place where the 2x1 is actually a 2x1. The large pizzas at the best price only in Z Pizza.
Daily Happy Hour from 6-8 pm.
In the purchase of an extra-large specialty receive a complimentary bucket. * Restrictions apply. Not valid on other promotions.
We offer home delivery service, make your events and party with us, we have special packages for you.
Learn more about
Z Pizza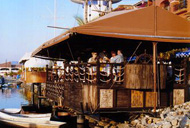 El Galeón
The restaurant at the sea, where our captain has prepared his own recipes since 1993. Opens daily from 9:00 a.m. to 12 p.m. This restaurant is very different from all others since its right on the Marina Ixtapa in a really beautiful boat.
You can also enjoy fine food from the sea with a Mediterranean touch.
Learn more about
El Galeon
Che Mangiamo
Che Mangiamo is a restaurant located in Plaza Marina Ixtapa over Fisher and is characterized by having the best view of the second largest marina of in Mexico.
Che Mangiamo is the only restaurant in the Ixtapa Marina Plaza with live music.
Come to dinner a good time with us!
Learn more about
Che Mangiamo
La Europea
More than 50 years on, La Europea continues to operate in the sale of wines, spirits and gourmet foods, and is certainly a strong brand in the Mexican market fully identified as the renowned specialist.
In 1994 LA EUROPEA began to modernize its store concept with the opening of "Wine Market" in the Toreo (1994) a self-service cellar, continuing with St. Jerome, Mundo E, Plaza Satellite, Guadalajara (four branches), Cuernavaca, León, Acapulco (two branches), Los Cabos (three branches) and the most recent Cancún.
In order to expand its service and competitiveness, LA EUROPEA began the direct and exclusive import of some premium brands of wines, spirits and food of international recognition through its subsidiary IMPORTACIONES COLOMBRES SA. DE CV. Today we are import leaders of table wines for the Mexican market.
Learn more about
La Europea
TicarSA
TicarSA provides the best options to purchase or lease property in the area of Ixtapa / Zihuatanejo in the beautiful Pacific Coast of Mexico.
You will find a wide range of options to rent homes and condos as well as land and homes for sale, Surround yourself with the color of the bougainvillea, glistening sunsets and the warmth of our beautiful beaches and fulfill your dreams!
Learn more about
TicarSA
Fisher´s
From the beginning we have worked to prepare fish and seafood in a different way instead of the traditional one, seeking to satisfy all tastes. Our cuisine is made from ingredients of the highest quality and our fish and seafood are bought fresh each day. In our menu you can find everything from shrimps, oysters on its shells, clams, Navajas, Alaskan and Moro crab, Octopus and Squids, Frog Legs, Lisa Roe to fillets, whole fish, Ruedas and loins, etc.
We deliver orders to your yacht!!
Learn more about
Fisher´s
El Fogoncito
Para El Fogoncito, es de mucha satisfacción el haberse situado en una de las zonas turísticas más bellas del País y compartir nuestras delicias culinarias de la gastronomía mexicana, con quienes comparten nuestra obsesión por la calidad y la perfección que los lleva a disfrutar de maravillosos momentos de sabor y de una gran servicio, con la mejor atención.
Learn more about
El Fogoncito